A Pleasantly Brutal Space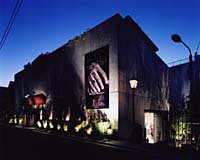 Does the world, or just Tokyo, need something called the
Tokyo Hipsters Club
– a concrete fashionista box of antiarchitecture, designed by a nonarchitect?
"The shape is defined by the allowable height within the restrictions imposed by the city of Tokyo; the materials defined by speed of construction; the internal spaces defined by the earthquake regulations."
Only a county construction planning department could love this.
I'm all for the creative use of pre-fab though. Especially these wee-houses, based on shipping containers. Very genki.
Maybe antiarchitecture is a valid and inevitable extrapolation from the antiart and antimusic memes. But how is one to separate the pseudo-edge from the truly innovative? Maybe the use of the Che Guevara portrait is a tell (or the use of the term 'hipster').

Maybe relying on 'anti' for definition is where it began to all go wrong. It's informative to remember that Hitler was considered by some to be a true antipolitician.
However, we'd be hard pressed to label ANTI, the music label, antimusic. And there's also that hot band - Antibalas.